A transformational journey through the mists of time in the wild Scottish Isles
7 – 16 May 2019

Rosemarkie Fairy Glen near Inverness

Tune into the energy of enchanted landscapes and sacred sites to connect with the magic that lives within you.

Take part in a Druid ceremony in the beautiful woodland setting of the prehistoric Clava Cairns and standing stones near Inverness.
Discover the Scottish legends surrounding the wizard Merlin – the Wild Man of the Woods. Son of the Scottish chief Morken, he lived in nature as a recluse in the Caledonian forest where he developed the gifts of prophecy and shape shifting.
Through Tarot readings in sacred sites, gain insight into your own spiritual journey…readings whose messages will continue to unfold for years to come.
Key sites on our journey which starts in Inverness and ends in Glasgow, include:
Inverness and surrounding area – Prehistoric Clava Cairns and standing stones, Rosemarkie Fairy Glen, Loch Ness
Orkney – Skara Brae, Maes Howe, Stones of Stennes, Ring of Brodgar
Iona – Abbey, Nunnery, St Columba's Chapel
Standing stones at Kilmartin.
Click here to download a detailed itinerary and here to register online on the Gothic Image Tours website. If you prefer to provide your registration details by phone or email, please contact Linda Marson – linda@globalspiritualstudies.com.
Your tour hosts
Jamie George, Director of Gothic Image Tours, has been taking spiritual pilgrims on tours for over 30 years. "It's been an honour to journey with so many interesting and inspiring people, helping them tune in to the history, mystery and magic of ancient sacred places, where every site has a story to tell. I imagine myself coming there for the first time, and if you put yourself in that position, all kinds of things can open up. For me, it's a dance between memory and revelation. Some of the most memorable times are those when we're just having fun. You find yourself laughing and joking because you're opening up, you're becoming much more at one with yourself and the land. I've had the pleasure of organising this journey many times over the years and look forward to warmly welcoming you to this magical land."
Linda Marson, professional Tarot reader, teacher, video producer and founder of Global Spiritual Studies has been in a working partnership with Gothic Image Tours since 2013. "The Tarot cards tell a story about the universal human journey…from the big challenges in life to the mundane," she says. "Travel is a way of life for me and those 78 cards are my favourite travel companions. Consulting the Tarot as you travel can yield amazing insights into stuff that's going on in your life. Think of those cards as a GPS, one that puts you in the driver's seat and alerts you to road blocks and shortcuts to where you want to be in your life." During tours, Linda facilitates a process for using Tarot to explore the messages sacred sites and landscapes have for each person.
Your tour guests
Guests on all our tours are practising Druids, often skilled in the bardic arts of music and storytelling. Details of our special guest for the first two days of the tour will be provided shortly.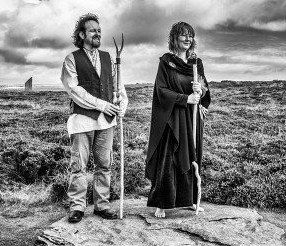 Helen and Mark Woodsford-Dean
Helen and Mark live on Mainland Orkney, where, through their company Spiritual Orkney, they offer a range of sacred and spiritual services to visitors, guests, seekers and pilgrims, as well as to local communities. "We are the Scottish Pagan Federation (SPF) Local Organisers for Orkney and are active members of an interfaith dialogue group here," says Helen. "We facilitate open rituals for the eight major Pagan festivals at The Ring of Brodgar, all of which are open to anyone with a warm heart and open mind." Helen is an experienced archaeologist and teacher, as well as a published author. Mark's background is a combination of Druidry and shamanism. He is also a qualified arborist, health care professional and archaeologist. Helen and Mark are our local guides on Orkney.

Watch this video to hear spiritual pilgrims talking about their experiences at some of the magical places we visit.
Cost
Earlybird: £2,350 per person, twin share (book and pay your deposit 30 November 2018)

Full price (from 1 December 2018)
£2,450 per person, twin share
Single supplement: £350 per person. Single rooms are few and on a first come first served basis.
Deposit: £500, payable upon booking
Special offer: £4,645 per person, twin share for two tours – Sacred Scotland and Enchanted Ireland. This special offer of £150 off the early bird price of each tour is valid until 30 November 2018, and only for a twin share booking. If you are not registering with a friend or partner, we can help you find a kindred spirit room mate. If you book a single room for both tours, you pay the early bird rate for both tours but the single supplement is reduced to £300 per tour.
Price includes:
quality, comfortable accommodation

coach travel

full English breakfasts and three course dinners each day

all inland transportation

entrance fees

guide fees, taxes and gratuities (excl. driver).
Not included:
international airfares and departure taxes

gratuities for the coach driver

services and meals not specified.