Product Description
with Mary K. Greer


If you're anywhere near Brighton in the UK in June, don't miss the opportunity to spend a day or two with internationally renowned Tarot and Lenormand expert, Mary K. Greer. Choose from a full day exploring the Lenormand oracle divination system, a half day fine-tuning your approach to reading the 16 court cards in the Tarot deck or take advantage of the workshop package which gives you both workshops at a discounted rate.
Saturday 17 June: 9.30am to 4.30pm
Reading Lenormand (for Fun and Profit??)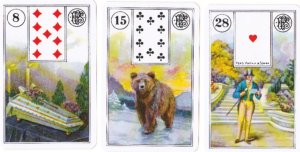 The Lenormand Cards are a 220 year old divination system that provides specific, concrete answers to mundane, life questions. They are emblematic rather than symbolic and are therefore read according to a vocabulary, syntax and grammar (without which you have just another pretty oracle deck).
Mary will be sharing the traditional method of reading Lenormand that is precise, accurate and fun. In addition to learning, or refreshing your knowledge of, the original meanings and layouts, you will do lots of practice readings focusing on yes/no methods, finding lost objects, the Square of 9 and the 36-card Grand Tableau. Learn to read a Grand Tableau in fifteen minutes! Make this fabulous deck your reliable go-to tool for addressing your everyday concerns and those of clients.
Click here to read a blog post from Mary about the traditional method of reading the Lenormand.
Sunday 18 June: 9.30am to 1pm
The Wisdom of the Tarot Court
Have you ever been stumped by the Court Cards in a Tarot spread? Then this experiential workshop is for you! The 16 cards of the Tarot court are incredibly powerful in a reading. As the voices in your head, they offer advice and direction. They also define physical and personality characteristics of people you encounter.
Learn to quickly identify their purpose in any reading and use these cards to great advantage. Agatha Christie's detective, Miss Marple, said she solved crimes by recognizing that people were like characters she knew well from her own village. Come to know the Court Cards as the wise inhabitants of your own inner realm. Click here for a blog post, Murder at the Tarot Symposium: An Agatha Christie Mystery where Mary demonstrates a fun way to explore the personalities of the 16 court cards.
Venue
The Bridge Community Education Centre
Lucraft Road
Brighton BN2 4PN
(good train and bus links, free parking on site)
 Cost
Early bird rates – book by 5 May 2017
Workshop package (1.5 days): $142 USD (approx £116)
One day Lenormand workshop: $114 USD (approx £93)
Half day Tarot Court workshop: $48 USD (approx £39)
Full price – for bookings from 6 May 2017
Workshop package (1.5 days): $160 USD (approx £132)
One day Lenormand workshop: $128 USD (approx £106)
Half day Tarot Court workshop: $53 USD (approx £44)
Catering is included in the price – morning and afternoon teas and lunch for the Lenormand workshop; morning tea for the half day Tarot Court workshop.
About the presenter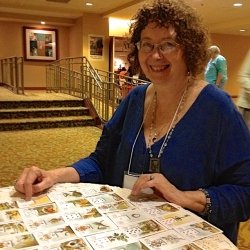 Mary K. Greer is an independent scholar, writer, teacher and professional Tarot reader. With more than ten books and 48 years experience in Tarot, Mary pioneered many of the Tarot reading methods used today, including reading Tarot for yourself and methods that are interactive, transformational and empowering. She has also totally immersed herself in the study of the Lenormand cards and developed a course which teaches you how to read the cards quickly and with confidence.
In 2007, Mary received the International Tarot Lifetime Achievement Award from the Association for Tarot Studies and is a research partner in Le Tarot Associazione Culturale (Italy). She also received the 2006 Mercury Award from the Mary Redman Foundation for "excellence in communication in the metaphysical field," and the 2006 Coalition of Visionary Resources (COVR) award for best divination book. She has lived in Japan, Germany, England and Mexico and in six states within the U.S., and continues to travel around the world teaching. For more information, visit Mary K. Greer's Tarot Blog.