Description
with Mary K. Greer and Linda Marson
If you're anywhere near London in May, don't miss the opportunity to spend a day or two exploring techniques for reading Tarot for yourself and others. Internationally renowned Tarot author and teacher, Mary K. Greer, is offering a full day workshop where, under her expert guidance, you will practise reading techniques from her best-selling book, 21 Ways to Read a Tarot Card. In Linda Marson's half day workshop, you will do readings for yourself and discover how Tarot can be used as a GPS to guide you through life. Register for one workshop or take advantage of the workshop package which gives you both workshops at a discounted rate. Register by the early bird date of 31 March and save 10%!
Saturday 12 May: 1pm to 5pm
TarotNaving through Life

'If you've had a Tarot reading, you've experienced the Tarot as a global positioning system, a GPS,' says Linda Marson. 'I use a SatNav when I'm driving, but when I want directions about life situations, I use my TarotNav GPS.
Using the Tarot as a GPS is both simple and potentially difficult. Simple because all you need to do is ask a clear question, select cards and use your knowledge of Tarot card meanings to identify the best way to reach your destination. Using the TarotNav GPS is potentially difficult because you have to ask the right sort of question, one that puts you in the driver's seat.'
In this practical workshop, Linda provides an overview of TarotNav, her unique guide to doing Tarot readings for yourself. It's then time to put theory into practice. With Linda's help, you formulate clear questions for your Tarot GPS, select appropriate layouts, do readings and consider the directions given by your Tarot GPS. Will the roads be clear or will you encounter road blocks and traffic jams as you drive towards your destinations? If you have a Rider-Waite-Smith deck, bring it, but any deck is suitable.
Click here for more information about Linda's TarotNav videos and e-book, including a free class which gives you an idea of what to expect in the workshop. Copies of TarotNav on a USB flash drive will be available for purchase at a discounted price.
Sunday 13 May: 9.30am to 5pm
21 Ways to Read a Tarot Card

Whether reading one Tarot card or a whole spread, the 21 techniques you will learn for reading a single Tarot card can demonstrate how to get the most from your readings. Begin with learning to read a card for yourself—in depth. You will find that it's possible to receive more detailed information from a single card, than from a large spread which you read quickly.
Discover how to "activate" Tarot images so they come alive – directly touching, moving and appealing to you. Such a process makes clear what is most important in our lives and what changes are necessary to make the most creative and vital aspects of ourselves more accessible and active. Learn to use each of the 21 methods in readings both for yourself and for other people. Discover how to integrate the meanings of cards and to discern the overall theme of a reading. Select the methods that best serve a specific need. This is a master class that is, nevertheless, suitable for all levels of Tarot knowledge, since we begin with the most basic reading methods.
Activities will use techniques from Mary's best-selling book, 21 Ways to Read a Tarot Card, but will also include a few new techniques for focusing on a single symbol in a card. Signed copies of the book will be available for purchase.
Venue
CityLit
1-10 Keeley Street
Covent Garden London WC2B 4BA
Room M07 on Saturday 12 May: Room 112 on Sunday 13 May
Click here for a map and here for information on how to get to CityLit by public transport. The nearest Tube stations are Covent Garden and Holborn (a 5 minute walk to the college).
 Cost
Workshop package (1.5 days): $150 USD (approx £106)
Half day TarotNaving through Life workshop: $55 USD (approx £39)
One day 21 Ways to Read a Tarot Card workshop: $124 USD (approx £88)
Catering is included in the price:
afternoon tea for the half day TarotNaving through Life workshop
morning and afternoon teas for the 21 Ways to Read a Tarot Card workshop. BYO lunch or buy lunch in one of the many cafes near CityLit.
Early Bird discount
Book by 31 March and save 10% on workshop fees. At the checkout, enter 'earlybird' (no apostrophes) in the coupon code field and select 'Apply code'.
About the presenters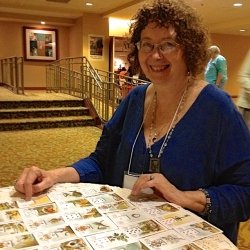 Mary K. Greer is an independent scholar, writer, teacher and professional Tarot reader. With more than ten books and 48 years experience in Tarot, Mary pioneered many of the Tarot reading methods used today, including reading Tarot for yourself and methods that are interactive, transformational and empowering. She has also totally immersed herself in the study of the Lenormand cards and developed a course which teaches you how to read the cards quickly and with confidence.
In 2007, Mary received the International Tarot Lifetime Achievement Award from the Association for Tarot Studies and is a research partner in Le Tarot Associazione Culturale (Italy). She also received the 2006 Mercury Award from the Mary Redman Foundation for "excellence in communication in the metaphysical field," and the 2006 Coalition of Visionary Resources (COVR) award for best divination book. She has lived in Japan, Germany, England and Mexico and in six states within the U.S., and continues to travel around the world teaching. For more information, visit Mary K. Greer's Tarot Blog.
Linda Marson is a professional Tarot reader, teacher and former President of the Tarot Guild of Australia. 'I love showing people how to harness the power of the Tarot to find the best way through situations they're facing,' says Linda.
'In 2006 I published a book, Ticket, Passport and Tarot Cards in which I used stories of my travels around the world to explain the meaning of the 22 trump cards in the deck, The book was quickly followed by a TV series which won an award for the best spiritual or personal development program on Australian community television. From the response to both book and TV series, I know that my approach to showing people how to use the Tarot in a practical way, works.'
Click here for information on Linda's Live and Learn the Tarot course which includes nine weeks of online mentoring.