A world where everyone can find and follow their spiritual path in peace…that's what we believe in.
The learning experiences you find here will nourish your soul, give you time to explore your spiritual path and open doors to ways of living that embrace both spiritual and worldly needs.
ENJOY!
The definitive guide to creating your own Tarot or Oracle deck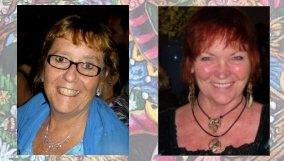 Are you creating a Tarot or Oracle deck? Do you feel the need for guidance from artists who have already been down this path? If so, check out these three master classes by published Tarot artists, Roxi Sim and Pamela Steele. In the classes they take you inside the creative and business process, along with more than 30 other artists, several of whom have subsequently had their decks published.
Eric Dunne, creator of the Tarot Illuminati published by Lo Scarabeo, expresses his gratitude for the guidance Roxi and Pamela gave him during the long process of creating his deck.
Thanks largely to your heartfelt and insightful advice and assistance my deck has an international following and fan base that far exceeds my and my publisher's wildest expectations…
Click here for more information and to purchase the classes, an investment you won't regret!
Travel back in time on journeys that touch your soul
Landscapes steeped in legend and history, sacred sites that date back 5,000 years, evenings of laughter and conversation and music…toe-tapping jigs and haunting ballads. That's what awaits you on Gothic Image tours of Ireland and Scotland in May and July next year.
Spiritual travel is an integral part of the learning experiences offered through Global Spiritual Studies. "I do this through partnerships with people who share my passion for providing travel experiences that connect people to the spirit of place in a relaxed, supportive environment," says Linda Marson, founder of Global Spiritual Studies. "When you return from a special holiday with a sense of inner peace and renewal, you've been on what I call a soul journey, one that opens you to a deeper understanding of who you are."
Click here to read more from Linda about her own experience of 'soul journeying'.