A world where everyone can find and follow their spiritual path in peace…that's our vision.
The learning experiences you find here will nourish your soul, give you time to explore your spiritual path and open doors to ways of living that embrace both spiritual and worldly needs.
ENJOY!
FREE intro to a new divination tool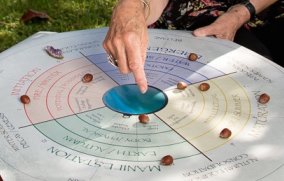 The Wheel of Segais is both a divination tool and a simple but profound template for understanding the innate nature of the universe and our place within it.
'It is my own creation,' says Pamela Meekings-Stewart. 'It came to me in a flash of inspiration (Awen) supported by over 20 years of study in Druidry, the Four Elements and Seasons and the 12 Archetypes or Wisdoms. I awoke one morning and in that magical time between sleeping and waking, all that knowledge and wisdom came together in a beautiful, simple image that I now call The Wheel of Segais or, sometimes, The Wheel of Inevitability!
At a Druid Gathering in Australia last year, Pamela demonstrated The Wheel of Segais and the response was amazing. Later this year, Pamela will be offering a series of classes on how to use this divination tool to plot the paths and cycles of your life. This is the first class.
To whet your appetite for the feast to come, she's offering the first class for FREE on 19 April. If you can't make the live session, register your interest in watching the recording, which will be free for 48 hours.
Click here for more information and to register.
Sacred Scotland: 4-16 July
This journey through the highlands and islands of Scotland is truly one that touches your soul. Open to the spirit of place in fairy glens, mountains and sacred sites. Feel the magic of these places rejuvenating your spirit in ways you never anticipated.
Linda Marson, a Tarot author and teacher, returns as special guest on this year's tour to help you use the Tarot to interpret your inner landscape as you travel the outer landscape of this timeless land.
Tour highlights include:
The enchanted fairy glen at Rosemarkie
Islands of Orkney with their wealth of pre-historic sites – the Neolithic stone circles of Stennes and Ring of Brodgar, the burial chamber of Maes Howe and archeological excavations on the Ness of Brodgar
The Callanish complex of megalithic sites on the island of Lewis
The fairytale landscape on the island of Skye
The beautiful island of Iona which radiates a special energy that brings peace to your soul.
Click here for more information about the tour which runs from 4-16 July.