A world where everyone can find and follow their spiritual path in peace…that's what we believe in.
The learning experiences you find here will nourish your soul, give you time to explore your spiritual path and open doors to ways of living that embrace both spiritual and worldly needs.
ENJOY!
Add Kabbalah to your kit bag of Tarot techniques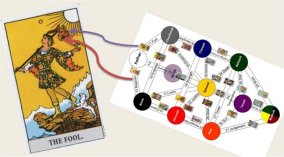 'A lovely day of learning'…'a magical day exploring the Kabbalah and Tarot'…'you started me on a journey of discovery. Thank you for planting the seed.'
Praise indeed for this workshop in which Linda Marson, former President of the Tarot Guild of Australia, cuts through the reams of confusing information on the web and elsewhere about Kabbalah. She distils the essence of what it means to apply the teachings of Kabbalah to a Tarot reading and gives you time to try it for yourself.
'You can be a great Tarot reader without understanding Kabbalah,' she says, 'but once you open the door to understanding the link between Tarot and Kabbalah you encounter a whole new world. A rich layer of meaning to the cards is revealed, one that adds depth to the way you respond to clients and interpret their cards.'
The next workshop will be held in Glastonbury in the UK on Sunday 31 May. Click here for more information and to register.
Travel back in time on journeys that touch your soul
Landscapes steeped in legend and history, sacred sites that date back 5,000 years, evenings of laughter and conversation and music…toe-tapping jigs and haunting ballads. That's what awaits you on Gothic Image tours of Ireland, Scotland and south west England between May and July this year. If Celtic blood runs in your veins or you're fascinated by ancient sacred sites, come join us on one of these adventures!
Spiritual travel is an integral part of the learning experiences offered through Global Spiritual Studies. "I do this through partnerships with people who share my passion for providing travel experiences that connect people to the spirit of place in a relaxed, supportive environment," says Linda Marson, founder of Global Spiritual Studies. "When you return from a special holiday with a sense of inner peace and renewal, you've been on what I call a soul journey, one that opens you to a deeper understanding of who you are."
Click here to read more from Linda about her own experience of 'soul journeying'.