Description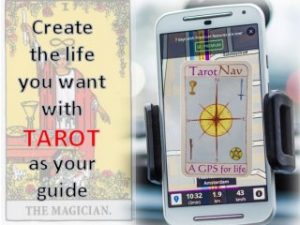 Imagine how many road blocks you could avoid if you had a GPS to guide you through life.The good news is that it exists! It's a deck of 78 cards called the Tarot.
'Due for release in November 2017, TarotNav will be the user guide for this GPS for Life,' says Linda Marson. 'People of all ages and from all walks of life will find TarotNav a valuable tool for helping them visualise life goals and develop strategies to achieve them. Available on a USB flash drive, TarotNav will contain a unique set of video and written resources that will be informative, easy to follow and entertaining!'
TarotNav videos
Videos illustrating the meaning of the 22 Major Arcana cards vary in length between 7 and 10 minutes, so it's easy to pace yourself as you explore the energies of these cards. Of course, you could binge and watch all of them in one sitting – a total of 3 hours!
'The Major Arcana videos draw on material from my Ticket, Passport and Tarot Cards TV series, which was produced in 2006 for a general audience. The TarotNav versions of the videos not only provide an overview of all the Major Arcana cards but also include discussion of  Tarot readings  to show how the directions given by my TarotNav GPS played out in real life. And much has happened in the 11 years since the TV series, so seven Major Arcana cards are covered in completely new videos, which have been a delight to create,' says Linda. 'In two separate videos, I demonstrate two popular layouts – the Celtic Cross and a seven card layout, often called the Horseshoe Spread.'
Here, to whet your appetite for more, are two of the new videos – one on reading the Celtic Cross and the other on The Magician which takes you on a journey to Merlin's Britain.

TarotNav e-book
This revision of Ticket, Passport and Tarot Cards, will contain:
simple meanings for all 78 cards in the deck (to complement the videos)
navigation tools or road maps…a series of layouts and guides to navigating your way through anything that life throws at you!
a workbook/diary for you to keep track of the questions you ask, the readings you do and the action you take as a result. Documenting your journey is an important element of the TarotNaving process.
TarotNav online forum
Jumping in at the deep end and trying your hand at readings is definitely the way to learn quickly. But how do you know you're on the right track with your interpretations? This is where the TarotNav online discussion forum comes in. Everyone who purchases TarotNav will have access to a private discussion forum on the Schoology website. There you can post readings, ask questions and generally interact with others who use TarotNav. At regular periods during the year, Linda Marson will participate in the forum – your opportunity to ask her questions or get feedback on the way you've interpreted a layout.
About Linda Marson
Linda Marson is a professional Tarot reader, teacher and former President of the Tarot Guild of Australia. 'I love showing people how to harness the power of the Tarot to find the best way through situations they're facing,' says Linda.
'In 2006 I published a book, Ticket, Passport and Tarot Cards in which I used stories of my travels around the world to explain the meaning of the 22 trump cards in the deck, The book was quickly followed by a TV series which won an award for the best spiritual or personal development program on Australian community television. From the response to both book and TV series,  I know that my approach to showing people how to use the Tarot in a practical way, works. Click here to view some of the 22 segments. Each video shows how I use Tarot to reveal the connection between my outer journeys (the countries I visit) and my inner journey at that point in my life. Understanding that connection led me to understand the next step in my life journey.
Pre-order your copy of TarotNav now!
TarotNav will be available on a USB flash drive in November 2017. Pre-purchase a copy now and receive updates on progress with its production, including sneak previews of videos as they're created.
Cost: $35 USD (includes airmail postage worldwide)