Description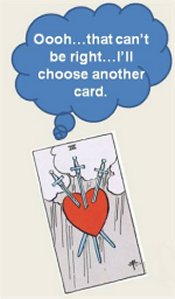 'Thank you so much, very insightful'… 'Wonderful class. I just did the self reflection spread on myself and it was very accurate'…' Thanks Linda, so helpful, I'm inspiried now to go and practice!'…'Thank you so much for last night's webinar, I thoroughly enjoyed it! The self-reflection spread is a powerful spread which last night gave such deep insights.'
These are just some of the comments from people in the recording session where former President of the Tarot Guild of Australia, Linda Marson, used her specially designed Self-reflection spread to show how you can do meaningful readings for yourself.
Some people don't believe we should do readings for ourselves but the reality is we all do and it's a great way to start learning the cards. We're only human, so one of the most common pitfalls is to keep shuffling until cards you like come out! This is a big 'no no' – maybe you didn't like the cards you first drew in answer to your question, but they're the ones with the message you need.
The recording comes with a comprehensive handout – extracts from Linda's book, Ticket, Passport and Tarot Cards, which is all about reading the cards for yourself. It contains a copy of the Self reflection spread and a guide to questions to ask yourself for each of the Major Arcana cards. In the layout, the answer to your question is selected from the Major Arcana.
Click here to download your FREE copy of the handout – sure to whet your appetite for this Tarot class!
About the presenter
Linda Marson is a former President of the Tarot Guild of Australia and author of Ticket, Passport and Tarot Cards. Before the manuscript was even finished, Linda was onto the next stage of the Ticket, Passport and Tarot Cards journey – a series of 22 x 5-minute programs for community television in Australia – one segment for each of the 22 Major Arcana cards. The series won an award for the best personal or spiritual development program on Australian community television in 2006.
In 2017 Linda revised both the book and TV series into a new product called TarotNav – a GPS for Life. TarotNav is a unique set of video and written resources that are informative, easy to follow and entertaining! The video and document files can be downloaded to your computer or device, or you can receive them stored on a USB flash drive.
No longer content to write or produce TV programs about Tarot and travel, Linda took people on Tarot guided journeys to Peru for a number of years. She continues to do this through a partnership with Gothic Image Tours in the UK.
Linda has been reading Tarot cards for over 30 years and for many years wrote for, and edited the Tarot pages of Spheres, a spiritual magazine in Australia. She has presented workshops on various aspects of Tarot practice and organised major Tarot events involving internationally renowned Tarot experts. In 2011, she established Global Spiritual Studies. For more information about Linda visit her website.
Recording
A video recording of the class is available for download to your computer or device as an MP4 file. It can be viewed on PCs using Windows Media Player and on Macs using the free VLC multimedia player for Mac operating systems which can be downloaded here.
Cost: $19 $USD.