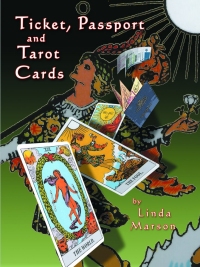 'One of the coolest Tarot books I have run across has to be Ticket, Passport and Tarot Cards, by Linda Marson' (from a review by the American Tarot Association). In this book Linda explores the meaning of the Major Arcana cards through linking them to her travels around the world. There's also a guide to all other cards in the deck, as well as a layout specially designed to help you read the cards for yourself.
Mary K. Greer, Tarot scholar and author says:
"Linda weaves wonderful tales in this book. You get intrigued, you want to know what happens next, you get caught up in the imagery of the cards and how Linda's own tarot readings played out in real life. Linda has a rich understanding of the cards and her examples really make the deck come to life. Anyone who reads this book will be inspired to trace their own life journey through the Tarot."
Other readers say…
"Thought I should let you know just how much I have enjoyed reading your fascinating book. I couldn't put it down – you certainly have a great talent for weaving personal stories with the cards in such a way that makes it all so easy to follow" …Shirley
"As an avid book reader, it is always a joy to find a book that you don't want to put down and look forward to turning the pages. Such a refreshing, open and inspiring book on Tarot and reading for yourself, as well as our journey through life itself."…Nicolette.
"I felt compelled to write to you as I am enjoying your book immensely, and it has also changed the entire way that I look at the tarot…thank you for the time and effort you put in to writing your book. I love it."..Sarah
Revised version now available with TarotNav – a GPS for Life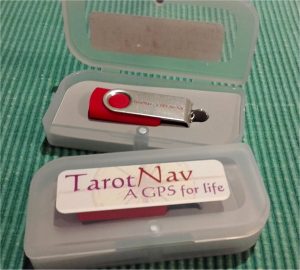 TarotNav is a unique set of video and written resources that are informative, easy to follow and entertaining! The video and document files can be downloaded to your computer or device, or you can receive them stored on a USB flash drive.
The TarotNav e-book, a revision of Ticket, Passport and Tarot Cards, contains:
simple meanings for all 78 cards in the deck (to complement the videos)
navigation tools or road maps…a series of layouts and guides to navigating your way through anything that life throws at you!
Click here for more information about TarotNav, including two of the 23 videos which you can watch for FREE.