Tour: 17 – 26 September 2022




E-Retreats: January – December 2022
A tour to Greece with Rachel Pollack (left) as our guide was scheduled for May 2020 but in March of that year the tour was postponed when it became apparent that the Covid pandemic was going from bad to worse. Sadly, for health reasons, Rachel is not able to make the journey this year. In her words – "I'll be 77 and not sure I could lead and teach such a strenuous journey the way I know I would want to do it."
However, as so often happens with magical ventures, something new and exciting emerges. When Rachel approached Carolyn Cushing (right) from Soul Path Sanctuary about guiding the tour, her immediate and enthusiastic response was 'Yes!'. Within hours she had devised a year-long experience which includes Rachel.
The year-long process involves:
preparation in the place where you live
a 10-day pilgrimage to Greece – the tour from 17-26 September
integration of the wisdom gained from the journey.
The Greek Mysteries celebrate the goddess Demeter's refusal to accept her daughter Persephone's abduction by Hades into the Underworld. When she, in her grief, stops the growth of grain that feeds humanity, Demeter forces the Gods to allow Persephone to return to the Living for part of every year and crops flourish again. Out of Death comes Life; ancient wisdom necessary for us to integrate into our awareness anew as we navigate times of global pandemic, institutional breakdown, and the climate crisis.
For initiates of the Mysteries, the rebirth of Persephone symbolised not just the seasons, but also the eternity of life from generation to generation and the soul's journey from one life to the next. Because of the secrecy surrounding the Mysteries, the precise nature of the rituals is unknown. However, those who participated in the rituals overcame their fear of death.
Later mystery cults were closed to all but a few, often men only. Eleusis was open to anyone who spoke Greek and was not a murderer! The participants identified with Demeter and dressed in shrouds, which later became swaddling clothes for babies. A Roman coin shows an emperor, with the title "Goddess" because he had been initiated at Eleusis.
As we journey through the year and on pilgrimage to sites associated with the Mysteries and the myths of ancient Greece, we celebrate our own personal journeys of descent, search and rebirth. Through ritual, visualization, story-telling and tarot, we honour the Mysteries of our own lives, those times when loss has been followed by the joy of resurrection, the joy of awakening.
Highlights of our September pilgrimage in Greece include:
Athens – the Acropolis with optional visit to the Acropolis Museum, shopping in local markets
Delphi on the slopes of Mt Parnassus – the Temple of Apollo where the Oracle of Delphi was consulted through the Pythia, the priestess who spoke the message of the Gods. The ancients considered Delphi the centre of the world. We honour Apollo, the God of prophecy, Gaia, the Goddess of the Earth, Demeter, who had her own temple at Delphi, and the Muses, givers of art and beauty.
Eleusis – the remains of the sanctuary  where the Eleusinian Mysteries took place every year. This, too, is a place with very special energy. People here often sense going back in time.
The islands of Mykonos and nearby Delos, the birthplace of Artemis and Apollo, an island with no modern buildings, only sacred sites.
Crete where many believe the Mysteries originated. We visit the "Palaces" of Knossos and Phaistos, along with a prehistoric cemetery.
Throughout the journey, we experience the power of the landscape as its eternal beauty merges with the myths and rituals.
Click here for a full itinerary. Please note that the tour starts in Athens and ends in Crete. Depending on your browser, the file may go straight into the 'Downloads' folder on your computer or device.
Click here to register. You can complete and submit this form without paying the deposit. If you're seriously considering joining the tour, we would appreciate it if you could submit the form to help us with forward planning.
Preparation
Carolyn is kindly waiving the normal fee for participating in her Soul Path Sanctuary's seasonal e-retreats for anyone interested in joining the September tour. Email Linda Marson if you would like to take advantage of this offer.  These online retreats follow the movements of sun and moon to gain the wisdom of the seasons.
E-retreats where Rachel Pollack is Carolyn's guest
Fee: FREE for people who have paid a tour deposit. $23 USD for anyone else. If you would like to register for the next session, please select the Pay Now button below. If you've paid a deposit for the tour, email Linda Marson who will add you to the list of participants.
Turning of the Year from 2021 to 2022: Find a Solstice / New Year's Seed of the New to focus your seeking and point you toward what you can birth through the experience. We will have a storytelling and seed blessing ceremony with Rachel early in February.
March Equinox 2022: Session with Rachel to learn about the Lesser Mysteries that prepared pilgrims for the Greater Mysteries in September (date TBA).
May-June 2022: Practice connected with the power of the landscape by combining Tarot with nature awareness through four elemental wisdom wanders leading up to the Solstice. Session with Rachel in July (date TBA)
Integration: Sacred travel transforms us and from that transformation comes gifts of inner change and outer offerings. We will gather for a final time in virtual circle with Rachel to share our stories of transformation around the time of the December 2022 Solstice.
Register and pay for February 2022 session with Rachel Pollack
In this video Linda Marson is talking with Rachel Pollack and Carolyn Cushing about the year-long concept for encountering the Mysteries of ancient Greece. It includes images of the key places we visit in September.
Your tour leader
Carolyn Cushing is a Tarot practitioner, poet, and seeker of justice. Through Soul Path Sanctuary, Carolyn offers spiritual mentoring, Tarot sessions, and on-line and in-person offerings to attune to the wisdom of sun and moon in their seasonal shifting. Since 2016, she has observed the Equinoxes as the time when Persephone travels, carrying messages between the dead and the living. Carolyn has been a guest teacher at the Northwest Tarot Symposium, HATHOR Forum, Twin Cities Tarot Collective, and Gaian Tarot Circle; and co-created rituals annually at Readers Studio, the largest and longest running international Tarot conference. Her Tarot practices and writing are included in The Gaian Tarot Companion Guide and Tarot for Troubled Times. She is co-founder of the Massachusetts Tarot Society.
Carolyn has been Rachel Pollack's student and collaborator since 1999. Rachel's Shining Tribe guided Carolyn through the Underworld experience of her partner's sudden death nine years ago, and since 2016 Carolyn has studied The Raziel with Rachel privately. Together they have guided groups through dynamic experiences of the Tarot as Circles of Healing and Wholeness, the Oracular Body, and the Magic Hidden in the Cards.
Your tour organiser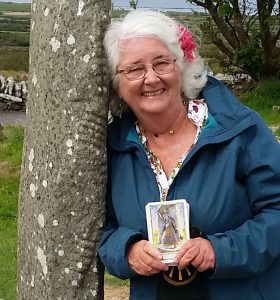 Linda Marson is a professional Tarot reader, teacher, video producer and founder of Global Spiritual Studies. She is also a former President of the Tarot Guild of Australia. "Tarot and travel go together like strawberries and cream," she says. "I help to organise and host tours of sacred sites and landscapes in the UK and Ireland offered by Gothic Image Tours. Consulting the Tarot as you travel can yield amazing insights into stuff that's going on in your life. Think of those cards as a GPS, one that puts you in the driver's seat. They alert you to road blocks and shortcuts to where you want to be in your life. I'm very much looking forward to working with Carolyn on ways of bringing Tarot into our Greek Mysteries journey."
Published in 2005, Linda's book, Ticket, Passport and Tarot Cards, was the first time anyone had systematically used travel stories as a way of explaining the meaning of the Major Arcana cards. The book contained stories from her travels over the past 40+ years, which showed how her outer journeys had run parallel to stages in her inner journey. The book was quickly followed by a TV series aired on community television around Australia. In 2017, a major revision of everything took place, resulting in TarotNav – a GPS for Life.
Guest archaeological experts
Guides with expert knowledge of the archaeological sites we visit will join us for a couple of hours at our hotels in Athens and Crete to provide information about the sites.
Cost
Early bird: $3,100 USD per person twin share.
To qualify for this price, you must book and pay your deposit by 14 March 2022.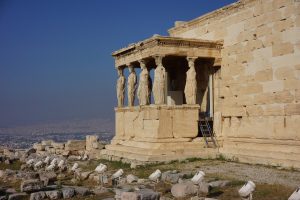 Full price: $3,360 per per person, twin share (from 15 March 2022)
Single supplement: $630 USD per person
If you are not registering with a friend or partner, we can help you find a kindred spirit room mate.
Deposit: $700 USD ( payable upon booking and non-refundable after 14 March 2022 unless you find another person to take your place).
Final payment is due by 15 July 2022. You will receive an invoice on 1 July with details of the balance due.
Payment options:  This can be done online through PayPal using a debit or credit card (with OR without a PayPal account). A direct link to PayPal is provided at the bottom of the registration page.
Currency converter at http://www.xe.com/.
Note: Australians registering for the tour can pay in Australian dollars. Please email Linda Marson for the price in AUD and bank account details.
Price includes:
quality, comfortable, mainly 4 star accommodation.
coach travel
ferries
breakfast and dinner each day
entrance fees
guide fees, taxes and gratuities (excl. drivers)
Soul Path Sanctuary Solstice-hinged e-retreats
sessions with Rachel Pollack (recorded for those who cannot attend live online sessions)
Not included:
international airfares and travel insurance
gratuities for coach drivers
lunch
services not specified.