Pass through the veil of time on spiritual tours in Britain and Ireland.
Experience the healing energy of Britain's ancient sacred landscapes.
Receive mystical messages from the ancients.
Transform your life in ways you never dreamed of.
Enjoy delicious food, warm hospitality and make lifelong friends.
Return home refreshed, renewed and inspired.
Step back in time
History, myth and legend take you back to a magical past in these lands which the Celts called 'the Blessed Isles of the West'. Here is a living landscape awesome in its power, beauty and symbolism. Pass through the veil of time and follow in the footsteps of legendary figures such as Merlin, Arthur and Morgan le Fay.
On our spiritual journeys, we travel through some of the most beautiful parts of the British and Irish countryside, including places known only to a few. We visit holy wells, enchanted forests, stone circles, dolmens of the dead, fairy mounds, magical caves and sacred islands – all with a story to tell. What's more, guests with specialist knowledge and insights into the history, myths and legends join us along the way.
Open to your full potential
In the company of kindred spirits, embark on one of our spiritual tours in Britain and Ireland. Leaving your everyday cares behind for a while, give yourself the time and freedom to explore your full potential. As one day melts into the next, guided meditations, quiet reflection, music, poetry, stories and ceremony gently move you from the physical to the spiritual world. And finally, a unique feature of our tours is the way we invoke the power of the Tarot to reveal the link between your individual spiritual journey and the places we visit.
Tour hosts
The tours are organised through Gothic Image Tours whose director, Jamie George, has been running them for more than 30 years. Linda Marson, founder of Global Spiritual Studies, is now co-host on tours to Ireland, Scotland and England.  Watch the video above and check out these blogs for more insight into the Gothic Image travel experience:
Follow the links below for information on the spiritual tours in Britain and Ireland offered by Gothic Image Tours.
Enchanted Ireland

Ireland truly has a magic all of its own. Its prehistoric and historic sites are among the most spectacular in the world and the country is rich in folklore, fairytales, myth and legend. On this tour we journey to standing stones, holy wells, cromlechs, fairy forts, chambered cairns, Celtic churches, ancient crosses, round towers, beehive huts, Ogham stones, windswept islands and a multitude of ancient sacred shrines….Read more
Merlin's Britain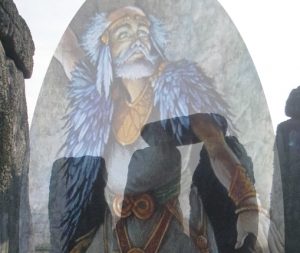 Experience the energy of sacred sites and landscapes by following in the footsteps of Merlin, Morgan La Fey and King Arthur. Listen for whispered messages Merlin's Cave at Tintagel, at Stonehenge, on the ancient Isle of Avalon (Glastonbury) and at Avebury. On the giant hill fort of Cadbury/Camelot, imagine standing under the light of the full moon, waiting to hear the thunder of hooves as Arthur's knights ride forth on their next adventure. Explore Glastonbury, the ancient Isle of Avalon – the Tor, Chalice Well, Glastonbury Abbey…..Read more
Sacred Scotland

Tune into the energy of enchanted landscapes and sacred sites to connect with the magic that lives within you. Take part in a Druid ceremony in the beautiful woodland setting of the prehistoric Clava Cairns and standing stones near Inverness. Through Tarot readings in sacred sites, gain insight into your own spiritual journey…readings whose messages will continue to unfold for years to come. ….Read more
Short sacred site tours in south west Britain
Jamie George from Gothic Image offers half and full-day tours of sacred sites in south west Britain. To book, simply contact Gothic Image Tours by emailing tours@gothicimage.co.uk or telephone +44 (0)1458 831231 mentioning the tour you'd like to do, the number of people in your group and your preferred dates….Read more