Description
As a Tarot reader do you sometimes feel you could have provided a more succinct answer to your clients' questions? You're happy with your interpretation of the cards but afterwards think "Hmmm… I should have expressed it this way, that would have been more effective…"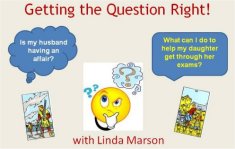 In this package of two master classes Linda Marson helps you fine tune your reading skills by focussing on two key aspects of doing effective tarot readings – helping clients to formulate clear questions and then helping them to understand the story their cards reveal.
In the first class, Linda provides practical tips on how to help clients formulate questions and how to keep yourself, as reader, focussed on interpreting the cards in the context of the question being asked. There are examples of different layouts for different types of questions, with a focus on the difference between open and closed questions. Closed questions such as 'Will I get the job I applied for?' invite only a 'yes' or a 'no' answer. Open questions such as 'How can I sort out the problem at work' allow options and strategies to be explored.
The second class is about 'telling stories'. It's about seeing patterns in the images on the cards, about helping people understand the story that is unfolding through the cards and what it means for them at this time.
A major focus of this class is on techniques for reading the cards which relate to:
reading the pictures
linking the cards
communicating messages
structuring a reading
helping clients formulate questions.
About the presenter
Linda Marson is a former President of the Tarot Guild of Australia and author of Ticket, Passport and Tarot Cards. Before the manuscript was even finished, Linda was onto the next stage of the Ticket, Passport and Tarot Cards journey – a series of 22 x 5-minute programs for community television in Australia – one segment for each of the 22 Major Arcana cards. The series won an award for the best personal or spiritual development program on Australian community television in 2006.
No longer content to write or produce TV programs about tarot and travel, Linda took people on tarot guided journeys to Peru for a number of years. She continues to do this through a partnership with Gothic Image Tours in the UK.
Linda has been reading Tarot cards for over 20 years and for many years wrote for, and edited the tarot pages of Spheres, a spiritual magazine in Australia. She has presented workshops on various aspects of Tarot practice and organised major Tarot events involving internationally renowned Tarot experts. In 2011 she established Global Spiritual Studies. For more information about Linda visit her Experience the Tarot website.
Recordings
Video recordings of the two classes are available for download to your computer or device as Windows Media files (.wmv). They can be viewed on PCs using Windows Media Player and on Macs using the free VLC multimedia player for Mac operating systems which can be downloaded here.
Total file size for two recordings: 1.75 GB
Cost: $38 USD
Payment: online through PayPal using a credit or debit card.