Description
with Linda Marson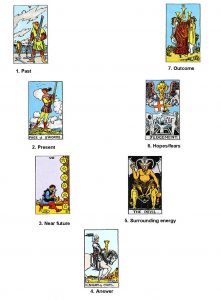 These 90-minute Skype calls are a fun way to fine-tune your Tarot reading skills in a supportive, small group environment (six people maximum). As you discuss ways of interpreting layouts from each person in the group, you'll be surprised at how much you learn and how quickly you gain confidence in your ability to do readings.
The sessions are faciliated by professional Tarot reader and teacher, Linda Marson, who started the sessions in response to requests for ongoing meetups by people who have studied Tarot with her – either in person or through her Live and Learn the Tarot course.
Here's how the Tarot reading practice sessions work:
Two days before the scheduled time, you submit a layout you did for yourself or someone else. Include the question,  the cards selected and the meaning attributed to each position in the spread (use any spread you like).
At least 12 hours in advance of the scheduled time, Linda sends everyone a copy of all the layouts as a PDF file.
At the scheduled time, Linda uses Skype to connect everyone on a conference call. In advance, you've given Linda your Skype name or a landline telephone number.
During the call, you have the file open on your computer and all spreads and interpretations are discussed.
Next session: 10am – 11.30am Sydney Australia time on Wednesday 12 April
Other timezones:
Los Angeles (USA – California) Tuesday, 11 April, 2017, 5pm – 6.30pm
New York (USA – New York) Tuesday, 11 April, 2017, 8pm – 9.30pm
Perth (Western Australia) Wednesday 12 April, 2017, 8am – 9.30am
London, UK – Wednesday, 12 April, 2017 – 1am – 2.30am
Auckland (New Zealand), Wednesday 12 April, 2017, 12pm-1.30pm.
Click here for a timezone converter to work out your local time.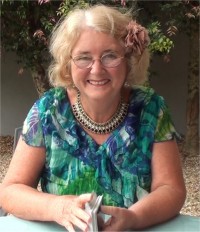 About the presenter
Linda Marson is a former President of the Tarot Guild of Australia and author of Ticket, Passport and Tarot Cards. Before the manuscript was even finished, Linda was onto the next stage of the Ticket, Passport and Tarot Cards journey – a series of 22 x 5-minute programs for community television in Australia – one segment for each of the 22 Major Arcana cards. The series won an award for the best personal or spiritual development program on Australian community television in 2006.
No longer content to write or produce TV programs about Tarot and travel, Linda took people on Tarot guided journeys to Peru for a number of years. She continues to do this through a partnership with Gothic Image Tours in the UK.
Linda has been reading Tarot cards for over 20 years and for many years wrote for, and edited the Tarot pages of Spheres, a spiritual magazine in Australia. She has presented workshops on various aspects of Tarot practice and organised major Tarot events involving internationally renowned Tarot experts. In 2011 she established Global Spiritual Studies. For more information about Linda visit her Experience the Tarot website.
Cost: $25 USD
Payment: online through PayPal using a credit or debit card.