Description
Jeni Bethell
Guided meditations into the archetypal energy of Tarot cards can be a profound experience. You gain more than just a greater understanding of the card's meaning. By immersing yourself in its energy you open yourself to new insights into personal situations and issues.
Two of Jeni Bethell's most popular courses in Melbourne Australia are Meditations on the Tarot Major Arcana and Meditations on the Tarot Minor Arcana. Comments from students about the effectiveness of the meditations inspired Jeni to compile the CDS. The double CD package contains guided relaxation and meditations (each lasting approximately 25 minutes) on the following cards: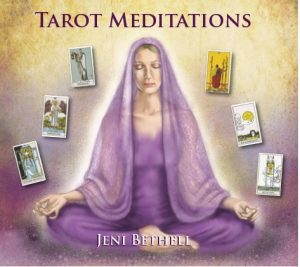 The High Priestess
The Hermit
Temperance
The Ace of Cups
The Ace of Pentacles
The Three of Wands.
CD cover design is by Rachael Hammond.
You can purchase the meditations as digital downloads or on CD. Click the 'Buy product' button below to go directly to Jeni Bethell's website.
Testimonials
I think the mix of body scan/relaxation combined with the visualisations and focus on the Tarot make the two CDs unique. They are a good pace and the music is perfect for the meditations. Beautifully packaged too. Good on you, Jeni!…Paul Stack, TS Bookshop, Melbourne
Jeni's love and experience of the Tarot is clear in these meditations which guide the listener into deeper knowledge of the cards, while allowing time for personal exploration. I found this helpful and beautiful. Thank you Jeni… Meredith Hutchinson
The meditation tracks and music ignite my imagination and enriching personal visions. I emerge from the meditation journey feeling relaxed, and in possession of many insightful messages and symbols beneficial to my personal growth…. Elisabeth Morgan
These meditations on the Tarot have deepened my experience and knowledge of each of these cards.  I have gained both personal insights, beautiful experiences and greater familiarity with the cards by spending time with these meditations.  I highly recommend them!…Patrick Carroll
Jeni's meditations, in particular the Ace of Cups, have been of enormous assistance to me through a time of great personal loss and distress. They have been my anchor and have allowed me moments of hope. I am very grateful… Ailsa Piper
About Jeni
Jeni Bethell (BA, Dip Ed, MA) has been a professional reader of Tarot Cards for the past 20 years in Melbourne, Australia. She is a founding member of the Tarot Guild of Australia and a regular speaker, presenter and writer on Tarot matters. Her articles have appeared in Living Now, Taros: Journal for Tarot Studies, Spheres: The Spirit Guide, and The Magician, journal of the Tarot Guild of Australia. Her Facebook and Twitter daily card quotations enjoy a popular following. During her professional life, Jeni has conducted many courses and workshops on various aspects of the Tarot, Meditation and Women's Spirituality. For more information visit Jeni's website and her Facebook page.