Description
Read Tarot cards for yourself with Linda Marson's unique guide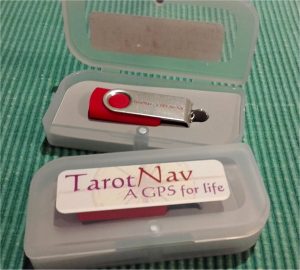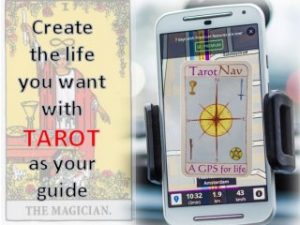 'The concept of Tarot as a GPS for Life comes from many years of doing Tarot readings for myself,' says Linda Marson. 'These readings have guided me through life-changing events, as well as everyday situations, which could be as fleeting as how to approach a potentially difficult phone conversation. I've lost count of the number of road blocks I've avoided by following directions from my TarotNav GPS!'
TarotNav  is a unique set of video and written resources that are informative, easy to follow and entertaining! The video and document files can be downloaded to your computer or device, or you can receive them stored on a USB flash drive.
Watch the video below for practical examples of how to use the TarotNav resources and framework to get meaningful answers to questions. Many thanks to the people who took part in the live classes – your enthusiastic participation was much appreciated. Our discussions about personality and soul cards and the three card readings we did together provide wonderful examples of how the Tarot can be used as a GPS to guide you through life.
Click here to download a copy of the guide to working out your personality and soul cards using your date of birth – your over-arching Tarot GPS!
TarotNav videos
Videos illustrating the meaning of the 22 Major Arcana cards vary in length between 7 and 10 minutes, so it's easy to pace yourself as you explore the energies of these cards. Of course, you could binge and watch all of them in one sitting – a total of 3 hours!
'The Major Arcana videos draw on material from my Ticket, Passport and Tarot Cards TV series, which was produced in 2006 for a general audience. The TarotNav versions of the videos not only provide an overview of all the Major Arcana cards but also include discussion of  Tarot readings  to show how the directions given by my TarotNav GPS played out in real life. And much has happened in the 11 years since the TV series, so seven Major Arcana cards are covered in completely new videos, which have been a delight to create,' says Linda. 'In separate videos, I demonstrate two popular layouts – the Celtic Cross and a seven card layout, often called the Horseshoe Spread.'
Here, to whet your appetite for TarotNav is the new video on The Magician which takes you on a journey to Merlin's Britain.
The videos feature music from the wonderful Tarot album by Canadian composer, Réjean Paquin. Click the play arrow to hear the first track, The Fool, and select the 'Tarot" link to hear more tracks and to purchase the whole album or individual tracks.
TarotNav e-book
This revision of Ticket, Passport and Tarot Cards, contains:
simple meanings for all 78 cards in the deck (to complement the videos)
navigation tools or road maps…a series of layouts and guides to navigating your way through anything that life throws at you!
Testimonials
Linda offers an excitingly innovative learning experience that will help you gain deep meaning from life experiences and get direction for future endeavors…I highly recommend this program as a way to learn how Tarot can be a guide on your personal journey and a key to turn your daily life into a spiritual adventure…from a review by Mary K. Greer, USA. Click here to read the full review.
A unique concept – well thought out, and well presented….Linda's work is incisive, inclusive, and a tremendous resource for an individual to take control of their own life through the energies in each of the 78 cards of the Tarot….A real bonus are two videos that demonstrate popular Tarot layouts – the Celtic Cross and the Horseshoe Spread…I am impressed with the ease of using this material – and I have to say that I adore the music used in the videos (from Canadian composer Rejean Paquin)…from a review by Bonnie Cehovet, USA Click here to read the full review.
The TarotNav concept is really clever. I like the succinct way Linda phrases things and draws on the Kabbalah in some of the Major Arcana videos…Karen, Wiltshire, UK
Congratulations – it's a great teaching tool. I'm going to enjoy learning Tarot this way…Suzie, Sydney, Australia
Just wonderful  – visuals and  text  easy to use. The whole thing  is light, colourful and engaging…Greg, Perth, Australia
Thank you for your inspiring videos!…

Catherine

, Lyon, France
TarotNav is just great!!!…Cassie, Lincolnshire, UK
I found TarotNav very helpful, easy to follow, well organized, great examples and summaries!   Bravo!...Leslie, Maryland, USA.
About Linda Marson
Linda Marson is a professional Tarot reader, teacher and former President of the Tarot Guild of Australia. 'I love showing people how to harness the power of the Tarot to find the best way through situations they're facing,' says Linda.
'In 2006 I published a book, Ticket, Passport and Tarot Cards in which I used stories of my travels around the world to explain the meaning of the 22 trump cards in the deck, The book was quickly followed by a TV series which won an award for the best spiritual or personal development program on Australian community television. From the response to both book and TV series,  I know that my approach to showing people how to use the Tarot in a practical way, works.
Recordings and documents

TarotNav consists of 23 videos (MP4 files) and an eBook (a PDF file).  You should be able to view the videos using the default media player on your computer or device. If not, click here to download the free VLC multimedia player which is designed to play any media file on any operating system.
Total file size: approx 6 GB
You can purchase TarotNav as files –
you download onto your computer or device
stored on a USB flash drive.
Cost
Prices are in $USD.
download files to your device: $35 

files stored on a USB flash drive: $40 (includes airmail postage worldwide).
Payment: online through PayPal using a credit or debit card.