Description
with Linda Marson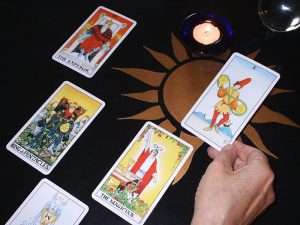 Would you like to learn Tarot, or brush up your Tarot reading skills with someone who has a natural talent for showing people how to do readings that flow? As you know, there's no shortage of books and videos on how to read Tarot, but very few online learning programs that really bring it all together.
Linda Marson's Live and Learn the Tarot course fills that gap! Through a combination of video classes and the option to participate in an online discussion forum and live sessions, Linda takes you on a journey which leads to a deep understanding of the cards and how to read Tarot in ways that provide meaningful and empowering answers to questions. Her approach to teaching Tarot gives you a system for learning the cards and reading card combinations quickly and intuitively.
Without knowing it, you encounter the energies of the Tarot cards every day of your life through what you do and the people you meet. A day when everything is on track has the energy of the Chariot. A day when you feel over-burdened by the number of things on your plate is a Ten of Wands day. A lover paying you special attention is the Knight of Cups. Throughout the course, Linda helps you to recognise the energies of the cards in your daily life – an easy way to understand what they mean.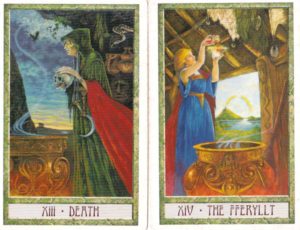 Linda's system is unique in that it draws on the wisdom and spiritual practices of Kabbalah and Druidry. The two decks used in the course are the Rider-Waite® and DruidCraft Tarots. Click here to read a blog where Linda talks about the common thread linking Tarot to these spiritual practices.
Click here to hear part of an interview with Philip Carr-Gomm, who, with partner Stephanie and artist Will Worthington, created the DruidCraft Tarot. He's talking with Linda about Death and The Fferyllt. Other sections of this interview are included in the course.
Course overview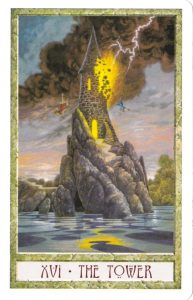 Class one
Tarot – How does it work? What skills do you need? Why do people come for readings?

Overview of the structure of the Tarot – the Major and Minor Arcana

The Fool – time to take a leap of faith and embark on the Hero's journey.
Class two: The Major Arcana – from The Magician to the Chariot
Class three: The Major Arcana – from Strength to Temperance
Class four: The Major Arcana – from the Devil to the World
Class five: Kabbalah, DruidCraft and Tarot – features an interview with Philip Carr-Gomm, co-creator of The DruidCraft Tarot. This class is available as a stand-alone recording. Click here for more information and to purchase.
Class six: The pip cards of the Minor Arcana – cards one to five
Class seven: The pip cards of the Minor Arcana – cards six to ten
Class eight: The court cards. This class is available as a stand-alone recording. Click here for more information and to purchase.
Bonus content: Included in the price of the course is the master class recorded by Evelynne Joffe entitled Tarot on the Tree of Life.
Highly recommended: TarotNav – a GPS for Life. This is Linda's unique guide to reading Tarot for yourself. TarotNav contains videos exploring the energies of all Major Arcana cards, videos on how to read two popular layouts and an eBook with meanings for all cards. Click here for more information and to purchase.
Click the Play arrow and watch the first class for FREE to see whether Linda's approach to teaching you how to read Tarot appeals.
Cost:
download all classes without online mentoring: $180 USD

download all classes + online mentoring: $230 USD
Optional online mentoring

Because all nine classes are recorded, there are no 'live' classes at set times. You simply purchase the recordings and watch them whenever you like. Interaction with Linda comes twice a year, when she offers nine weeks of online mentoring.  During these periods, she gives you week-by-week practical support for each class through an online discussion forum, activities and practice readings and two group calls. The next online mentoring period runs from  14 February – 17 April 2022.
Want to know what sort of exercises, quizzes and discussion topics are included in the online forum? Click here to download instructions for accessing the Live and Learn the Tarot section of the Schoology website.
Testimonials
This course is amazing value. The structure and organization of the classes and homework is superb, and Linda devotes a generous amount of time and effort into giving feedback on homework with the online mentoring option. I've been trying to "get" Tarot for at least 10 years now, off and on, and this is the first time I've felt that I made actual, tangible progress. The difference between where I was two months ago and now is incredible! I highly recommend this course. I'm sure that just buying the video recordings would be really useful too, but the added mentoring creates a highly accelerated learning process. Linda's system is straightforward, helpful, user-friendly, and has made all the difference. From what I've seen, the other classes on Global Spiritual Studies are of equally high quality (in addition to being great bargains) so I'm looking forward to continuing with other GSS classes…Jeri, California, USA
I have taken a couple Tarot courses, and must say that Linda Marson's course couldn't have been better! The videos are fantastic and fit for both beginners and more advanced readers. The platform she uses for coursework and interaction is very easy to use. Linda is organized and super interactive with her students and answers any and all questions you have. I highly recommend this course!…Daphne, Florida, USA
I had high hopes for this course as I had previously done two courses elsewhere which were very disappointing. I can honestly say Linda's Live and Learn the Tarot exceeded my expectations! Linda is a wonderful teacher who is warm, approachable and has tons of real life experience. Her course is well structured and completing/participating in the course is so easy using the Schoology website.  For me it was a winner because of the mix of study, homework, practical exercises and the bonus of  Zoom meetings with Linda. If you've been thinking about taking the next step with Tarot this course is perfect for you. Highly recommended!…Ruth, Canberra, Australia
Linda is an excellent teacher and does a great job at teaching the Tarot. Her approach is practical, which I love! She explains the cards and a system to read them in a way that is easy to understand. She gives students ample opportunity to practice and discuss with her their learning challenges. I highly recommend this course to anyone who wants to have a good foundation for reading the Tarot…Vanessa, Quebec, Canada
This Tarot course has been such an incredible journey! Linda shares her considerable knowledge and love of Tarot with wisdom and wit, compassion and practicality in well-thought out classes mixing online learning and homework with live conversations. If you're serious about learning Tarot, this is the course for you – it is fun yet goes deep and is also superb value for money…Karen, Wiltshire, UK
Linda's Live and Learn the Tarot course enhanced my reading skills in a way I had not been able to grasp from Tarot books. Learning in a very personal way opened up a new understanding of how the cards work. Seeing how we can create positive outcomes in our lives when we follow the guidance presented in the cards from our Higher Self is very empowering! I have really benefitted from Linda's experience and sharing…Janet, Melbourne, Australia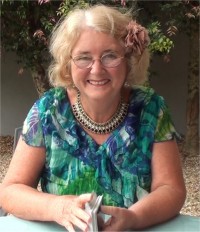 About the presenter
Linda Marson is a former President of the Tarot Guild of Australia and author of Ticket, Passport and Tarot Cards. Before the manuscript was even finished, Linda was onto the next stage of the Ticket, Passport and Tarot Cards journey – a series of 22 x 5-minute programs for community television in Australia – one segment for each of the 22 Major Arcana cards. The series won an award for the best personal or spiritual development program on Australian community television in 2006.
The book and TV series have been revised and combined into a new product – TarotNav – a GPS for Life, a unique set of video and written resources designed to help you read Tarot for yourself.
No longer content to write or produce TV programs about Tarot and travel, Linda took people on Tarot guided journeys to Peru for a number of years. She continues to do this through a partnership with Gothic Image Tours in the UK.
Linda has been reading Tarot cards for over 30 years and for many years wrote for, and edited the Tarot pages of Spheres, a spiritual magazine in Australia. She has presented workshops on various aspects of Tarot practice and organised major Tarot events involving internationally renowned Tarot experts. In 2011 she established Global Spiritual Studies. For more information about Linda visit her Experience the Tarot website.
Recordings
Video recordings of the nine classes are available as Windows Media files (.wmv). They can be viewed on PCs using Windows Media Player and on Macs using the free VLC multimedia player for Mac operating systems which can be downloaded here.
Total file size for nine recordings: 5.04 GB
You can purchase them as files you download onto your computer or device. You can choose to purchase all classes or pay in two instalments if you plan to participate in the online mentoring program. If you would like to receive the video recordings on a USB flash drive, please email Linda Marson.
Cost
Prices are in $USD.
download all classes+ online mentoring: $230
download classes 1-4 + online mentoring: $115
download classes 5-9 + online mentoring: $115
download all classes without online mentoring: $180
Payment: online through PayPal using a credit or debit card.