The most famous card reader during the Napoleonic era was Marie Anne Lenormand. Until recently, use of the Lenormand divination cards has been confined to Europe, but not now. Suddenly everyone wants a deck and everyone wants to know how to read them.  In a series of two online classes entitled Petit Lenormand Method - Past and Future, Caitlín Matthews explores the history, future and practice of Petit Lenormand card methods.
Much has changed since the first early 19th century explosion of parlour oracles took traditional European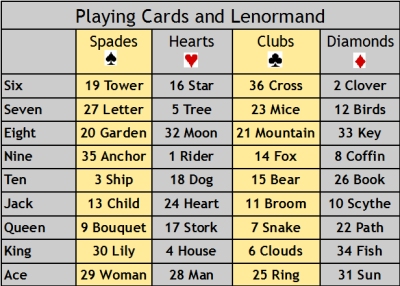 piquet cartomancy by storm into so many different directions. We are now experiencing a second awakening as Petit Lenormand cards invade the rest of the world. Here we explore the context, history and impact of Lenormand cards as well as how we shape and become part of their future through our practice.
PART ONE
The legacy of Mlle. Lenormand, celebrity sibyl: cartomancy in the parlour
Here we look at the origins and cartomantic development of the Petit Lenormand cards and the piquet deck that preceded them, as well as exploring the reasons why Marie-Anne Adelaide Lenormand's name became so strongly attached to them.  We hear about her life, adventures and divination methods. Using the traditional parlour context, we will practise classic cartomantic skills such as pairing and counting with our cards, and the art of tableau.
PART TWO
Lenormand futures: beyond the parlour - cartomancy goes global
Here we look to the future of Lenormand Cards as the cards' popularity spreads out beyond Europe.  As personal ambassadors of this tradition, we are in the process of extending our own divinatory range and Lenormand vocabulary to the world about us.  We see how each card can also be a person and an event, and how we create our own colloquial vocabulary as we update the Lenormand dictionary.  We explore the literal and metaphorical impact of the cards, and learn some smaller spreads to use on a daily or weekly basis.
About the presenter
Caitlín Matthews is a respected initiator and ritualist within the Western Mysteries. She teaches ancestral shamanism, Celtic traditions, community ritual, divination and the giving of oracles all over the world, as well as having a shamanic practice. She is the creator of four tarots and six oracles, including:
the forthcoming Steampunk Tarot: Gods of the Machine (with John Matthews & Wil Kinghan)
The Arthurian Tarot (with John Matthews & Miranda Gray)
The Celtic Wisdom Oracle: An Ancestral Quest (with Wil Kinghan).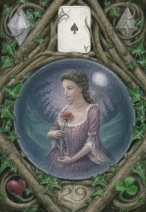 Her own Lenormand deck, the Enchanted Lenormand (with Virginia Lee) appears in 2013. Here you have a sneak peek at the wonderful artwork in the deck - the Woman card. Caitlin lives in Oxford, U.K. – for more information visit her website at www.hallowquest.org.uk.
Recording formats These webinars are available as recordings you watch online or as DVDs suitable for viewing on a computer screen. The format is suitable for both PCs and Macs.
Online viewing requirements
All you need is a broadband connection of reasonable speed. If you  can watch YouTube video clips without any trouble, your broadband speed  is sufficient to watch webinar recordings.
After purchasing access to recordings, you will receive an  automated receipt with a link to downloadable PDF files with details of how to access the recordings. You can view them online as many times as you wish.
Cost:
online recordings: AUD $39 for both sessions
Set of two DVDs: AUD $41+ packaging and postage ($3 Australia and New Zealand: $6.50 all other destinations)
Payment:
Online through PayPal using a credit or debit card. If you're in Australia and would like to deposit directly into the Global Spiritual Studies bank account, please email linda@globalspiritualstudies.com for bank account details.